WorldWide Vacations Club FAQ
How does the conversion to the VI program work?
By the end of September, you will receive a contract and paperwork from Vacation Internationale. VI has an exclusive phone number and email for WorldWide Vacation Club Members - (800)621-2403 or email inforequest@viresorts.com. We are here to answer all your questions and facilitate a smooth transition.
How much is the conversion fee to join Vacation Internationale?
There is no cost to convert to Vacation Internationale. You are receiving credit for your WorldWide Vacation membership.
How many VI points will I receive?
WWVC
Ownership
WWVC
Maintenance Fee
VI Points
Conversion
2016 VI
Maintenance Fee
Two Bedroom
$732.00
105
$803.25
One Bedroom
$699.00
91
$696.15
Studio
$666.00
81
$619.65
How long will my VI membership last?
You will receive a perpetual (forever) membership in the VI program. You may also transfer your VI membership to family or friends, who will then have the rights and obligations associated with the VI membership.
When will my VI membership begin?
The paperwork you receive from VI will include an option to choose when you will receive your first allocation of VI points. VI operates on a use year that begins on July 1 and ends on June 30 of each year.
If you would like to enjoy a vacation through the VI Program during the 2016-17 VI use year, your points will be retro-allocated on July 1, 2016 and you will receive your VI assessment billing. (as a service, your VI Points are automatically saved, in case you are not able to vacation in any one year)
If you prefer to have your first allocation of VI Points during the 2017-18 VI use year, you may indicate that and your VI Points will be allocated and VI assessment billed on July 1, 2017.
How much is the maintenance fee?
The VI operating fund assessment (maintenance fee) is billed per point owned – currently at $7.65 (USD) per point. Your Use Year runs July 1 through June 30. You will receive your VI annual operating fund statement July 1, and have the option of paying in full by July 31st (USD) or paying monthly with a 1% finance charge. VI's operating portion of their budget has remained flat for the last nine years. The reserve portion of the budget has gone up to ensure that the units are maintained in top quality. On average, their overall assessment has increased 1% per year.
Will all of the WorldWide Vacations Locations be transferred to VI?
The Embarcadero and Ventura at Boca Raton will be transferred to the VI Program. The other locations will not be transferred. VI has existing inventory or exchange relationships in nearly all of the locations that WWVC has.
What is the relationship between TPI, VRI and VI?
Vacation Resorts International (VRI) and Trading Places International (TPI) are two management companies. Trading Places International is the managing agent for the Worldwide Vacations Club. Vacation Internationale (VI) is a completely separate Vacation Club that was started before VRI and TPI were management companies. TPI and VRI are completely separate companies from Vacation Internationale.
Is VI a stable company?
Vacation Internatationale (VI) is one of the oldest Points based clubs in North America, with over 40 resort locations and 44,000 members. They have demonstrated continued expansion and have a robust sales program to support the growth of their Club. They have also completed a number of mergers similar to this one. For more information on VI, go to their website. www.viresorts.com
What are some of the VI Benefits?
Availability for VI resorts can be found online at www.viresorts.com. You may confirm your reservation online or speak to a VI Owner Services representative.
No housekeeping fees are charged at VI resorts, only the $20 Booking Fee, collected at the time of booking.
Saving points with VI is automatic with no associated charge. With saving/borrowing, you have access to 4 years' worth of points. (annual owner)
Bonus Time is available at VI's 44 resorts for rates as low as $55 per night, within 15 days of arrival.
Book your reservation at VI resorts up to one year in advance.
No guest fees.
Do I have a home resort at VI?
No, but you can vacation at any of the 44 resort locations in the VI Program, in any unit size, any season, for any length of time. The beauty of the VI Program is that flexibility is built in. You choose what works for you.
Other than the 44 resort locations, what else does VI offer?
VI secures over 2,000 exchange weeks each year, in areas we know that our VI Owners desire – these weeks are made available to our Owners through our Instant Exchange Program for a nominal exchange fee + VI Points. We have an agreement with WorldMark by Wyndham for our Owners to exchange at several properties on a nightly basis. Will I have access to Bonus Time?
As a VI Owner, all VI resort locations are available at VI Bonus Time rates within 15 days of arrival, starting at $55 (USD) per night, based upon condo size. Based upon availability.
Will this affect my RCI membership?
No, your RCI membership will not be affected. You may continue to pay your annual membership fee to RCI as it relates to the use of your WWVC weeks and any other RCI Affiliated Resorts you own.
Are my current week deposits that I have in my RCI account lost?
All RCI week deposits will be in your RCI weeks account for you to use (subject to their expiration). All reservations confirmed through RCI using your WWVC weeks deposit are valid.
How can I be assured that my VI timeshare is secure?
VI units are held in a debt-free real estate trust for the benefit of all VI members, which ensures the security of a VI membership. As new VI contracts are sold, additional units will be added at new or existing resort locations to maintain a balance between VI contracts and units in the program. All VI units are protected against any encumbrance, sale, or attachment of the units by creditors of VI or VI's developer.
How many VI points does it take to vacation at Embarcadero and Ventura at Boca Raton?
In addition to the units that WWVC has at The Embarcadero, VI also has 35 units there.
The Embarcadero (Newport, Oregon):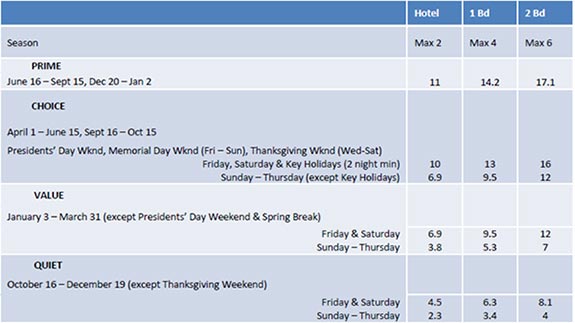 Ventura at Boca Raton (Boca Raton, Florida):


For online access to VI's Public Offering Statement, click here.